InTensino
Full mass properties measurement

automotive

aviation

fast

easy
accurate

portable
Only one test set-up for the complete inertia tensor
Excellent accuracy
Ease of use
Portable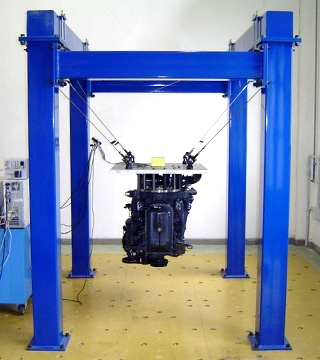 The InTenso series of instruments are full mass properties measurement instruments. They measure the weight, center of gravity location in 3 axes and the full inertia tensor: moment of inertia in 3 axes and product of inertia in 3 planes. The advantage of this system resides in the simplicity of use: the payload is only mounted in one configuration and all the mass properties are measured in that orientation.
InTensino is thought for payloads between 7 and 400 kg. It was originally designed to measure the mass properties of engines.
Other sizes are in the works. Please, contact us with your specific payload requirements for a custom-size instrument.
Measurement
Just like Intenso, the Intensino is a non linear pendulum based on the same operation concept.
The most significant difference is that, due to its size and its design, Intensino is a portable system.
On request, SMARTMechanical is available to perform a complete measurement service at the customer's premises.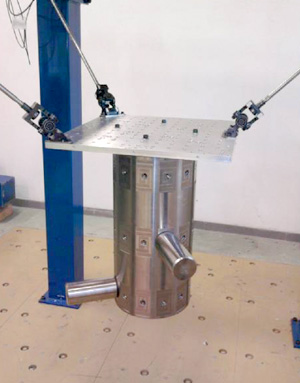 (MOI: Moment of Inertia, POI: Product of Inertia)
COG UNCERTAINTY
±1.5 / ±3 mm (in-plane / height)
MAXIMUM DIMENSIONS OF THE BODY
2000x1000x1000 mm (LxWxH)*
POI ACCURACY
±0.5% (wrt max MOI of the body)
PEAK ACCELERATION DURING TEST
PRINCIPAL DIRECTIONS UNCERTAINTY
MOI AND POI RESOLUTION
0.2% (wrt max MOI of the body)
* These values are indicative ones; customized fixture can be realised